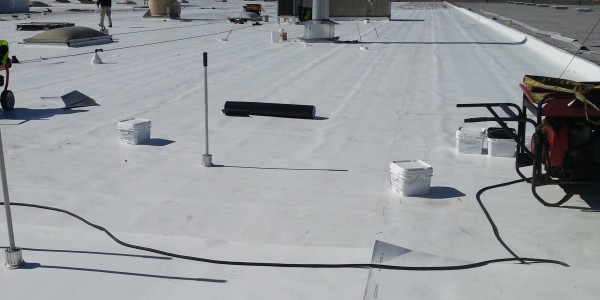 QUALITY COMMERCIAL ROOFING SERVICES
In April of 2014, we celebrated our 45th anniversary of providing quality services for commercial roofing, sheet metal roofing and general roofing service. Since 1969, Arrow Roofing has aligned itself as an authorized applicator for all of the major roofing manufacturers that we feel have demonstrated a history of quality products, services, and commitment to the markets we serve.
EQUIPMENT TO GET THE JOB DONE
Arrow Roofing's equipment fleet of cranes, semi trucks, boom lifts, roll off truck, pettibones, stake trucks, heated predator machines, vans and pickups allows us to completely service our customers and totally control projects from start to finish.
Arrow Roofing prides itself as being a leader within the roofing industry. There are many significant differences between us and our competitors. All of our customers benefit from the following:
Drug Free Workplace
Arrow Roofing is a certified drug free workplace. Fourteen percent of our workforce is randomly tested every quarter. The amount of illegal drugs within the roofing industry is alarming. We are extremely proud of our drug free workforce.
Long Term Employees
Arrow Roofing does not employ temporary employees. We believe that our permanent employees give our customers the highest level of quality. All employees are trained in best safety practices and roof system standards.
Exceptional Quality
Arrow Roofing is a proven leader in the roofing industry.  We have been awarded numerous awards from Carlisle Syntec and Firestone Building Products year after year.
Safety First
Arrow Roofing has a full-time safety director that inspects our projects to ensure all company and MIOSHA guidelines are followed.
Sheet Metal Certified
We are one of the few facilities in Michigan that carries ES-1 certification. With this certification we are able to provide metal products that meet current building codes.
Insurance
All of our projects are covered under a $10 million dollar insurance policy due to the high end projects we are involved with.